Written by Elspeth McCartney and Sue Ellis

The text Sue Ellis and Elspeth McCartney (eds), 2011, Applied Linguistics and Primary School Teaching, Cambridge: CUP arose from a British Association of Applied Linguistics/Cambridge University Press multi-disciplinary seminar series including teachers, teacher-educators, speech and language pathologists/therapists, policy-makers and psychologists, with an added international perspective. The book considers how primary/elementary teachers' linguistic knowledge might be framed, and examines what linguistic knowledge is most useful, how it is best introduced, and how it needs to be understood in the context of the complex and diverse modern school classroom. Two important issues arise in this context – linguistic diversity (see for example Hammond (Chapter Two), Horan and Hersi (Chapter Three), Tierney (Chapter Five) and Creese (Chapter Fourteen)) and the presence of children with additional needs for learning support in the mainstream classroom, as a result of global education policies promoting social inclusion.
This article is concerned with this latter group, and the relationship between teachers' knowledge of language and children's educational support. The particular focus is on children with speech, language and communication (SLC) difficulties, whose learning needs may by definition be clarified using linguistic analysis. This blog is about this large group of children: every primary classroom in the UK will have on average two or three children with some form of SLC needs (p.252, citing Lee 2008). Letts(Chapter Twenty) notes that many children with SLC also use English as an additional language, although that is not a causal factor in their developmental difficulties, and the complexities which arise.
Support for children with SLC difficulties is frequently offered at school, capitalising on the natural and ecologically valid language environment of the primary school classroom, and its extensive opportunities for social use of language. Support in the western world usually requires speech and language pathologist/therapist (SLT) and teacher co-operation. Teachers adapt the classroom to become a communication-friendly environment, tailor literacy activities to children's abilities, and often undertake specific language-learning activities agreed with an SLT, thus fulfilling a school's legal responsibility to educate children with additional support needs.
SLTs bring a good knowledge of clinical linguistics to such situations from their pre-service education, but teachers also benefit from some linguistic understanding if they are to communicate with SLTs and undertake intervention effectively. There is a need to consider what linguistic knowledge teachers need, and in what form, and how it should be acquired.
As introduction, Vance (Chapter Four) reviews the range of linguistic information that would be helpful to teachers educating children with SLC difficulties. She lists in particular the domains of speech and phonology; vocabulary; morphology and sentence structure, and aspects of language use. This is a wide range of linguistic knowledge, but Vance also reviews international research suggesting that teachers at present may have little such knowledge to apply, and are conscious of their lack of preparation for educating children with SLC difficulties.
Vance's analysis suggests that teachers' would find enhanced language knowledge useful in their role as educators, and would help teachers and SLTs communicate and discuss intervention options. However, Applied Linguistics and Primary School Teaching reports a variety of views by teacher-educators as to how this might be accomplished. These range from questioning whether there is any predictable relationship between teachers' explicit linguistic knowledge and effective teaching, and so querying the need for linguistic knowledge; through including linguistic coursework in pre-service teacher education courses; to post-experience self-directed learning and development frameworks; to an approach where linguistic knowledge is provided by an SLT, tailored to an individual child and teacher, and offered along with relevant activities and materials 'just in time' for intervention.
Specific examples come from Dombey and Briggs (Chapter Fifteen) who cite older work by Medwellet al. (1998) concerning teachers proven to be effective in teaching literacy that suggested such teachers were little different from less effective teachers in terms of their explicit linguistic knowledge. Dombey and Briggs argue this does not provide evidence that linguistic knowledge is an essential component of good teaching, but they nevertheless outline a pre-service Knowledge about Language strand within a university degree which includes study of text structure, morphology and syntax, and segmental phonology, and which they believe offers student teachers confidence to talk about key features in text and children's writing, and the opportunity to become better teachers of literacy. Student teachers apply their knowledge throughout to their own experiences of literacy, and to children's writing and children's literature.
Horan and Hersi (ChapterThree) also discuss pre-service linguistic coursework, and also stress it requires to be applied during student teachers' placement experiences in diverse contexts in order to be useful.
Brooks(Chapter Sixteen)suggests that introducing pre-service teachers to selected International Phonetic Alphabet symbols would help them teach phonic aspects of literacy, and avoid confusion in languages such as English where phoneme-grapheme correspondences are not transparent.
Each of the above authors advocates pre-service linguistic education but stresses the need to provide relevant knowledge that is immediately applicable to primary teachers' on-going work, so that it is used within and beyond training and becomes 'owned' by teachers. Brooks notes that linguistic information has not always been presented to teachers in such an applied and contextualised way.
Two sets of authors discuss approaches that present teachers with linguistic knowledge post-qualification. Hartshorne (Chapter Eighteen) describes the development of a Speech, Language and Communication Framework (SLCF) which allows individuals including teachers to assess their own understanding of typical speech, language and communication development and use, and to consider their resulting needs for further information and continued professional development.
The SLCF was designed with the needs of all children in mind, but with opportunities also to consider the needs of children with SLC difficulties. Ellis and McCartney (Chapter Nineteen) concentrate on children with specific language impairments, reporting a research-based approach where linguistic information on developing oral language skills is presented to teachers, along with specific language-learning activities for individual or small groups of children and appropriate materials, to be undertaken in the classroom. These two chapters consider oral language, and the need to analyse spoken as well as written texts.
The variation reported in the ways in which teachers are introduced to linguistics has implications for the amount, centrality and domains of their linguistic knowledge, and means there can currently be no certainty about what teachers know. Whether or not teachers attain useable applications of linguistic knowledge during their pre-service courses seems to be a critical variable. The points made by authors against decontextualised information and lack of application would apply to much professional learning, where knowledge has to be framed as applicable and 'owned' to be used. Where teachers achieve such a relationship with linguistics during their pre-service courses, application becomes part of their professional knowledge to be used in a wide variety of teaching and learning contexts to support all children as they learn to talk and listen, read and write, so empowering teachers to do their job.
Examples of linguistic approaches that apply to all children are given by Myhill (Chapter Six) regarding grammar and children's writing; Sealey (Chapter Seven) regarding corpus linguistics; Smith (Chapter Eight) regarding story-book reading; Jajdelska (Chapter Nine) regarding the concept of narrator; Moss (Chapter Ten) regarding children's constructions of being a reader; Nunes and Bryant (Chapter Eleven) regarding morphology; Rickets, Cocksey and Nation (Chapter Twelve) regarding reading comprehension, and Lefstein and Snell (Chapter Thirteen) regarding classroom dialogue. Apel, Wilson-Fowler and Masterson (Chapter Seventeen) give a particularly helpful example relating to spelling, where techniques used with all children are augmented for those with SLC difficulties, and where continuity is evident. Applying linguistics can help teachers to analyse child progress towards literacy and to identify appropriate learning and teaching points. And applying this sound grasp of linguistics to the needs of children with SLC difficulties becomes an extension of general teaching approaches, rather than a separate and novel approach.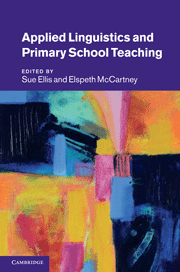 SLTs are often surprised at teachers' lack of linguistic knowledge, given their responsibilities for developing classroom talk and literacy. Teachers, on the other hand, often report that the form in which applied linguistics knowledge is presented is not particularly helpful, a point that Greg Brooks illustrates in an anecdote about his personal experience on teacher training courses. This means that at present, SLTs cannot rely on a child's class teacher having a common language with which to communicate, which introduces uncertainties and disconnections. Teachers using the SLCF framework are taking admirable personal responsibility for their professional growth, but this process may have to be short-cut to meet the immediate needs of children in their class. SLTs can empathise with teachers asked to work with children with SLC difficulties without preparation or development time, and can use a 'just in time' model to support learning. But this does place a large training responsibility on SLTs. It also tends to place teachers in an 'assistant' role, where they receive just enough knowledge to undertake communication development activities, but which fails to capitalise on teachers' professional insights. Co-professional working would be considerably enhanced by linguistically fluent teachers.
In editing a book on applied linguistics and primary school teaching, it is unsurprising to assert the view that linguistics should be a proper part of a teacher's professional knowledge.  However, this view might also be supported by consideration of the rights of children with SLC (and indeed the rights of all children) to be educated by linguistically informed teachers who can develop their language skills. Applied linguistics as a knowledge base and analysis tool has an opportunity to spread its influence widely into mainstream school education, to support teachers in the modern complex classroom and to support inclusive education. But there is a need for much further conversation about how this may be progressed.
Continue reading Applied linguistics and children with speech, language and communication needs: issues of teacher knowledge